Featured DVD's archive
Hame Hame Gang Bang Island in Okinawa
This DVD Movies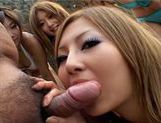 #
Featured model : Shiho Kano
Naughty Asian models are having some fun on the beach. At first they are just talking and playing in the water until they come out for some food and some tanning on the beach. They are jouned by the boyfriend of one of the girls and they are partying on the beach until one of them decided this guy is getting a gangbang on the beach! His girlfriend gets hoom going by sucking him off and then the...
Shiho Kano and Asian model friends are enjoying the beach and some cock
90%
Movie size : 126 Mb
Movie length : 9:59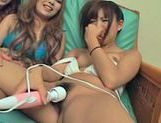 #
Featured model : Shiho Kano
Shiho and her naughty Asian friends are playing around with their new vibrators. The girls are having a good time playing with their new toys and deciding which ones they like and which ones they don´t like for the store they got them from. These gals get new toys all the time and test them out for the store. If they give an honest review they don´t have to pay for their new toys. It...
Shiho Kano and her sexy Asian friends enjoy masturbation together
89%
Movie size : 144 Mb
Movie length : 11:28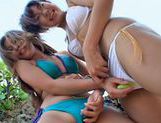 #
Featured model : Shiho Kano
Pretty Asian models enjoy going to the beach and enjoying each other´s company. They all work together and live in the same building so they do lots of things together as a group. These girls will play with their pussy toys too when they get new ones they have to get together to compare them and see what they have. They also enjoy fondling each other for the fun of it just because it is...
Shiho and her hot Japanese friends enjoy their toys on the beach
92%
Movie size : 150 Mb
Movie length : 11:53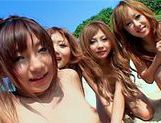 #
Featured model : Shiho Kano
This naughty Asian teen and her friends are having lots of fun on the beach. Her family owns this property so it is very private. They get wild and the suits come off and they begin to have some fun with the only guy that is there! They all work together in the club as wait staff so they know each other pretty well and they enjoy the time off so they can go to the beach and relax. As soon as...
Shiho Kano Asian model and friends enjoy a fucking on the beach
88%
Movie size : 307 Mb
Movie length : 24:20
#
Featured model : Shiho Kano
Shiho is a hot Asian model who enjoys getting her friends together when her parents are out. They were gone for the weekend and none of her friends are working so they decided to have a party. One of them set up a camera to tape all their hot and heavy sex just to keep for their own records later on. Shiho has another thought though and if he leaves the tape with her she is going to put it on...
89%
Movie size : 388 Mb
Movie length : 30:42
Our DVD's Archive