Featured DVD's archive
Parade Vol 6 Costume Nabigation Debie
This DVD Movies
#
Featured model : Miri Sugihara
This Asian babe is definitely different. She is a performer who comes in when she is in town and graces us with her most unusual act. She has a nice tight body, firm tits and a haity pussy that she slowly strips to show off. As she is dancing she checks out the crowd for a victim. When she spots the guy she wants she invites him up for a little cock sucking and hot wax that he is to use on her...
Japanese AV babe Gets Hairy Pussy Fucked And Hot Wax On Her Tits
68%
Movie size : 194 Mb
Movie length : 14:17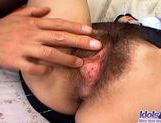 #
Featured model : Debbie
I saw this big titted Asian babe in the adlt store up the street from the club. She is usally behind the counter, but this time she was behind the glass and had a couple guys in with her. They would take turns fondling her big tits and fingering her pussy until it was decided that it was time to get on with a good fucking from her horny partner. She also is pretty good at giving head too!...
Japanese AV Model Gets Her Big Tits Fondled Before A Fucking
81%
Movie size : 179 Mb
Movie length : 12:52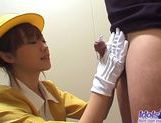 #
Featured model : Eri Yukawa
This horny Japanese babe works the elevator in the hotel that goes to the penthouse suites. She is in to visit the club when time permits and tells us stories of her adventures in the elevator business. She meets lots of guys who are looking for some quick sex and is always being asked if she gives head. She has made this part of her business now when the ride is to the top floor! She makes...
85%
Movie size : 116 Mb
Movie length : 8:31
#
Featured model : Yuka Shiratori
My neighbor has a Japanese babe for a maid. He is always telling or rather bragging about the good head she gives. I told him to share the wealth and bring her in so we can all check her out but he wants to keep her for himself! Maybe the business she works for can send a few more of their hot Japanese maids this way! They will definitely never have to do windows, or much of anything else...
81%
Movie size : 208 Mb
Movie length : 15:18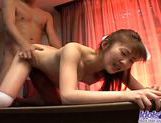 #
Featured model : Mari Yamada
This Japanes.e babe is all in it for the costumes! Her favorite is the nurse??s uniform. She enjoys giving these guys examinations to see if their equipment is working right. She has plenty of her adventures on her web site so you can see what she is up to and what costume she has chosen for the day. She gets her ass slammed pretty hard when she takes it doggy style and never complains about it...
86%
Movie size : 189 Mb
Movie length : 13:54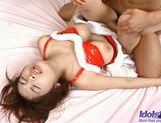 #
Featured model : Ririko Asahina
This is our Japanese babety holiday elf. She walks around in front of the hotel handing out tickets to a free show when they eat at the dinner theatre. She is cute with her red costume and big tits too. She attracts lots of attention just wagging her tight ass and great legs but when she turns around and those titties are shown she definitely gets your attention. These are two mountains I...
76%
Movie size : 204 Mb
Movie length : 14:59
Our DVD's Archive